Cape Town (In a Nutshell)
Cape Town is Africa's most popular tourist destination. It is located on the shore of Table Bay, on the South Western tip of Africa.

History:
For thousands of years, Cape Town was inhabited by the Strandloper(an ancestor of Kalahari Bushmen).

Cape Town's European history began on 6 April 1652, when Jan van Riebeeck established a supply station on behalf of the VOC (Dutch East Indies Company) for Dutch ships sailing to Eastern Africa, India, and the Far East. The first European settlers were mainly Dutch, with some French Huguenots that had to flee from religious persecution in their home country. The settlers soon explored the adjacent hinterland and founded the cities of Stellenbosch and Paarl in today's Cape Winelands.

The Voortrekkers (Pioneers of European descent) started from here to explore and settle the rest of South Africa.

Cape Town quickly outgrew its original purpose as the first European outpost at the Castle of Good Hope, becoming the economic and cultural hub of the Cape Colony. Until the Witwatersrand Gold Rush and the development of Johannesburg, Cape Town was the largest city in South Africa.

Today Cape Town is a world-class cosmopolitan city with numerous sites of historical significance and a lively night-life.

Powered by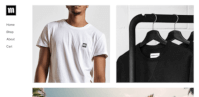 Create your own unique website with customizable templates.